Welcome to my
Shaolin-Taichi
Website

Deutsche Version
I've been practicing and teaching Taichi for a long time now.
I am a friend of the Vice-Abbot of the Shaolin Convent in China and can arrange for you to study with the best teachers from the convent. On the following pages, you can find dates for the seminars, plus information on how and where to contact me.
M. Knoll
My 2 styles/directions are
Yang - style

Chen - style

37 shortform with
Shaolin Art
24 Pekingform
Taichi swordform
I never demand more of my students than they are ready to handle and do not believe in pushing any participant into something he finds uncomfortable. If you have a health-problem, I can handle it and attend you individually. I also teach children from 5 to 12 years of age (younger and older than that, after a discussion with the parents).
My Taichi has brought very positive results to many students and I'm sure I can help you as well.
My Taichi form is something special because I maintain a feeling of unity with the old masters, and, if you'd like, then you too can feel this very positive effect.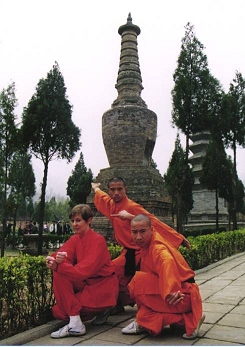 My student

Nicola Maricic
Franje Belulovica 8/11
51000 Rijeka
Croatia

has won in November 2000 at Utrecht/Netherlands
the bronze medall for the 24 Yang form.

!! Congratulation !!
My training-offer:






| | |
| --- | --- |
| | First part of the short-form (16 Sequences) |
| | Rest-exercises with Nei-Gong |
| | Energy-construction with Taichi-Gong |
| | If you wish second and third part of the 37 short-form and |
| | Chen - style Taichi se shi are shi |
Further informations about Taichi, Shaolin-Kungfu, trips to China, and other topics can be found on the Seminar page.
Please sign-up for seminars and training on my Contact page.